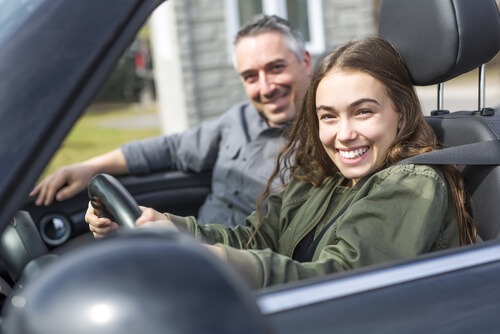 Category
Preparing for the 100 Deadliest Days of Summer and Preventing Teen Car Crashes
This is the time of year when everyone wants to relax and enjoy the season, especially teens. It's also a deadly time of year, because of teen drivers. The time period between Memorial Day and Labor Day is often referred to as the 100 Deadliest Days of Summer. Over 8,300 people died in car crashes involving teenage drivers between 2008 and 2018 during the 100 deadliest days.
What Causes Car Crashes During the 100 Deadliest Days?
Nearly all car crashes are caused by human error. Even in ideal weather and driving conditions with clear skies and dry roads, crashes happen, which means drivers are taking risks they shouldn't.
The new AAA Foundation Traffic Safety Culture Index found that nearly 72% of teen drivers admitted engaging in at least one of the following behaviors:
Driving 10 mph over the speed limit on a residential street (47%)
Driving 15 mph over the speed limit on a freeway (40%)
Texting while driving (35%)
Running a red light (32%)
Driving aggressively (31%)
Driving while drowsy (25%)
Driving without a seatbelt (17%)
Bad driving behavior is modeled. Teen drivers consider themselves infallible and all-knowing, but they are still learning how to operate a motor vehicle, no matter how much they've practiced. And they're watching the adults in their lives as they drive.
Stopping Teen Car Crashes
Do you text and drive? Do you tailgate other drivers? Do you observe the speed limit? Parents have the responsibility to teach their teens to become good, safe, Michigan drivers. Without that investment, disaster is far more likely.
You may not think your teen even listens to you, but they're aware of the significance of getting behind the wheel of a large machine – and whether they want to admit it or not, a little guidance is welcome. Don't assume they're fine on their own.
Talk to your kids often about practicing safe driving behaviors and avoiding distracted driving, speeding, and drunk driving, whether they're the driver or the passenger. Establish a parent-teen driving agreement that establishes your family's rules for all drivers, especially new, teen drivers.
Conduct supervised practice with your teen. Watch them drive, make corrections, make them aware of just how serious this privilege is. They have many lives in their hands when they're driving – their own, and those of all the people around them.
Take Precautions Before Summer Driving
Summertime is a thing of beauty. School is out and there is freedom galore, especially for teens who have a set of car keys. As we head into the summer of 2020 in particular, and COVID-19 restrictions begin to lift, teens will want to grasp their place on the roads even more than usual. Parents may be ready to push everyone out of the crowded home you've lived in together for months, but don't trust that the road will keep your teens safe.
If you have been involved in an auto accident because of a teen driver or if you are the parent of a teen driver who caused a crash, contact personal injury lawyer David C. Femminineo at Femminineo Attorneys in Macomb County. We are open for calls 7 days a week, from 7 a.m. to 7 p.m.