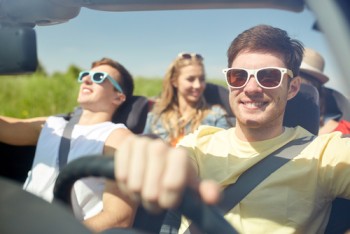 Category
Protect Your Teen Driver from a Labor Day Car Accident
Labor Day caps the end of the 100 Deadliest Days for driving, particularly for teen drivers. From the end of May through the end of August, teens are afforded freedom from school. While they may have jobs and other responsibilities, they have far more time to spare. These moments can be filled with friends, fun, and drinking. A Labor Day car crash caused by drunk driving is no way to start the school year.
Reasons Teens Have Car Accidents
Teens are one of the riskiest demographics for car accidents, for many reasons. They:
Are inexperienced drivers.
Want to show off to impress people.
Believe themselves foolproof and accident-proof.
Drive while drunk.
Are distracted by smartphones.
Drive with too many friends in the car.
In summer, teens heed the call to get out of the house. And, unfortunately, many of them make alcohol party of their revelry. Labor Day weekend is the last opportunity to get together and really kick back with no obligations before the school year begins, whether heading into the senior year of high school or back to college. When alcohol has a role in these parties, so does drunk driving.
Stats About Teen Drunk Driving
The National Highway Traffic Safety Administration (NHTSA) reports that over 750 people died in drunk driving accidents during the Labor Day weekend between 2010 and 2014. A recent study found that drunk driving accidents were a top cause of premature death between the ages of 15 and 49. For stats specifically about teens and drunk driving, we look to Mothers Against Drunk Driving (MADD):
About 1 in 7 teens binge drink. However, only 1 in 100 parents believe their child binge drinks.
Kids who begin drinking at a young age are seven times more likely to be in a drunk driving car accident.
A quarter of teen car crashes involve a drunk driver who is underage.
Over 40 percent of 10th graders drink alcohol.
Over 4,300 people die each year because of teen alcohol use.
Preventing Teen Drunk Driving Accidents
Prevention and education are keys to curbing teen drunk driving. It's critical for parents to be involved and aware when it comes to their teen's driving habits and social outings. You may trust that your child will make smart decisions but, under the influence of peer pressure or concerns about getting in trouble, your teen can make some unwise choices about driving – whether intoxicated, distracted, or otherwise.
Set limits and make rules about using the car. Regularly review household guidelines for driving, no matter who the driver is. Set a good example – don't drive while drunk or distracted. Educate your teen about the dangers of drunk driving – you can't expect them to intuit the reality and gravity of the situation for themselves. Make them aware of the horrifying stats about drunk driving deaths, and the prevalence of drunk driving among teens.
Give your teen responsibility and accountability and they will be more likely to live up to it. Allow them to make all their own decisions without awareness of or concern for consequence, and a car accident may not be far behind.
If you have been the victim of a Michigan auto accident involving a teen driver, retain the services of Michigan auto accident attorney David C. Femminineo in Macomb County. Contact us today to schedule your consultation.