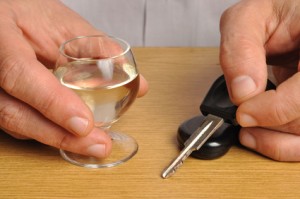 Category
Preventing Drunk Driving: There's an App for That
Sad irony or incredible intelligence? The newest technology for smartphones is called Breathometer: An app paired with a small breathalyzer device that allows people who have been drinking to conduct a breathalyzer test before they get behind the wheel.
The Breathometer app, which is scheduled to be released this fall, reveals to users their breathalyzer results immediately. There is certainly merit to being able to test your blood-alcohol content (BAC) on the spot. Too often, people don't realize just how intoxicated they are. Perhaps the threat of failing a breathalyzer test if they were potentially pulled over is enough to stop people from driving drunk. We'd like to think that the possibility of causing an auto accident would be incentive enough as well.
The creators of the Breathometer app want to help people make better, safer decisions when drinking. A user need only launch the app on their phone, blow into the hardware (a small device that plugs into your phone and fits on a keychain), and wait for the phone to display the blood-alcohol level. Currently, Michigan and the other 49 states have set a BAC of .08 percent. If a driver is found with a level above that percentage, they are subject to arrest and prosecution. Recently, the National Transportation Safety Board voted to recommend that states lower the BAC to .05.
The Reality of Drinking and Driving
We'd like to think that people wouldn't dream of getting behind the wheel of a car if they knew they were legally intoxicated. For many, the feeling of intoxication doesn't kick in until their BAC is far higher than they realize. And because of a woman's physical makeup, one drink will show her as having a higher concentration of alcohol in her blood than a man, which leads to greater intoxication. One drink for a woman is the equivalent of a drink and a half for a man of the same size.
Awareness is often the key to promoting change. Mothers Against Drunk Driving reports that every 53 minutes someone is killed in a drunk driving crash – a total of almost 9,900 people in 2011. Every 90 seconds, someone is injured by a drunk driver. Knowing the statistics about drunk driving isn't often enough to convince people to change their drinking and driving behavior – but perhaps some personal insight will.
Can a pocket breathalyzer test actually change behavior? The creators of Breathometer partnered with an online polling site and surveyed respondents about their drinking and driving behavior: 64 percent said they have either driven while intoxicated or have been in a car with a driver who was under the influence. Only time will tell.
If you have been involved in an auto accident caused by drunk driving, contact Femminineo Attorneys PLLC to discuss your case with Michigan personal injury attorney David C. Femminineo.