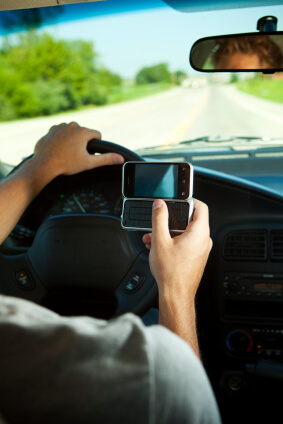 Category
R U Still Txting in UR Car?
Chances are, you don't even have a mobile device on the seat beside you if you or a loved one has been involved in an auto accident as the result of careless texting by a distracted driver. And now, by law, texting while driving is considered a primary offense in Michigan.
The Michigan no-texting law was signed last spring and is meant to protect Michigan drivers and make the roads safer for all drivers and passengers. Michigan cell phone laws now prohibit any form of texting – reading, writing, or sending text messages – while operating a motor vehicle. Each offense is considered a civil infraction and can incur a fine of $100 for the first violation and $200 for all subsequent violations.
Unfortunately, some Michigan drivers will go to any lengths to maintain their methods of on-the-go communication, even if it puts themselves and others at risk. Not only is having a communication device in your hands illegal, that iPhone, Blackberry, and plain old cell phone are also prohibited from being in your lap. However, on the lap is where many mobile devices reside when drivers are aiming to hide their indiscretions from the eyes of officers patrolling Michigan highways.
One quick look down while driving is enough to cause an auto accident. But a texting driver is more likely to take their eyes from the road for longer periods of time than a non-texting driver. And that results in far too many auto accidents, and preventable deaths. If you have endured injuries and damages or faced the loss of a loved one because of an auto accident caused by texting, you now have an even stronger defense for your case with this new no-texting legislation in place.
There is no excuse for carelessness on the highways. Drivers distracted by mobile devices – whether they're texting or talking – are simply less responsible on the road. And if you've suffered an auto accident because of it, we can help you file a personal injury case and collect damages inflicted by the hands of an unobservant and irresponsible driver.