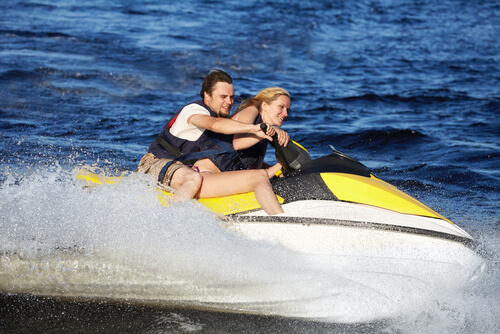 Category
3 Dangerous Summer Water Activities in Michigan
Water enthusiasts are taking to Michigan waterways this summer to practice social distancing while still scratching their summer itch for fun in the sun. Overcrowded lakes and rivers, though, threaten these good intentions and boat accidents and water accidents occur far too often.
Here are just some of the most dangerous summer water activities for Michigan residents.
Boating
There are about 1 million registered boaters in the state of Michigan and 11,000 inland lakes. Even with all this space to stretch out, spreading the wealth safely among these waterways can be a challenge, quite often because the people operating the boats are not always the most experienced sailors.
Michigan does not require boat owners to take a boating safety course. As a result, plenty of boat operators think they know how to manage a vessel just from watching a parent or friend do it. Many of the novice boaters are also very young – children under age 12 are permitted to operate a 35-horsepower motorboat with supervision. Imagine traveling Michigan highways with pre-teens alongside you in their vehicle.
Your safety in a water vessel is in your hands, but also in the hands of others. Nearly three-quarters of all boating accidents happen because of operator error – not knowing the rules of the waterways, distraction, drinking, poor operation choices. Vessels commonly crash into each other, collide with a still object, have a skier accident, or experience electrical issues or flooding of the watercraft.
Kayaking
As one of the smaller watercrafts on Michigan waterways, kayaks have the privilege of moving in and out of tight areas easily and swiftly. However, their small size also puts them in danger of being overtaken by larger vessels. User error, though, is the most dangerous part of this water sport.
Paddling in open water may seem freeing, but it can also be dangerous, especially for kayakers who do not wear life vests, fail to check water and weather conditions for the day ahead, or underestimate how tired they will become during their travels.
Kayaking can be an inexpensive way to get out on the Michigan waters, but vigilance is the only way to stay safe. Knowing the conditions, knowing your skill level and not overestimating your experience and ability, are the best methods for preventing drowning and accidents.
Jet Skiing
Personal watercraft (PWC) includes jet skis, water scooters, and wave runners. They are fast, fun, and exhilarating to those who are looking for a thrill on the water. They also pose inherent dangers to the operators and riders – and anyone in their path.
In the state of Michigan, no one under the age of 14 may operate one of these water vehicles. Those aged 14 or 15 may only operate a PWC if they have a boating safety certificate and are accompanied by a parent or legal guardian on the PWC or the parent or guardian is not more than 100 feet away.
These rules should be comforting, but the reality is that jet skis and the like, traveling at high rates of speed, are often responsible for striking swimmers or other watercraft. You can't brake on a jet ski – attentiveness is critical to avoid a water accident.
Staying Safe on Michigan Waterways
There is a feeling of freedom that comes from spending time on Michigan waterways, away from the demands of daily life and the fears and stress that have been bogging you down in the pandemic. Just remember that the waterways are governed by their own laws, just like Michigan highways, and it is every water enthusiast's responsibility to travel safely, whatever the type of vessel you choose.
If you are involved in a boating accident in Michigan with another vessel, personal watercraft, or otherwise, contact personal injury lawyer David C. Femminineo at Femminineo Attorneys in Macomb County.