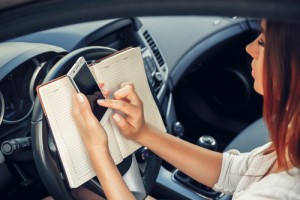 Category
The Constant Demand for Distracted Driving Awareness
As April ends, so too does Distracted Driving Awareness Month, but every month and every day is an opportunity to increase awareness of distracted driving – and change your habits to be a safer Michigan driver. Distracted driving has become an epidemic that kills at least nine people and injures 100 daily in distracted driving auto accidents on American roads.
Make the Choice to Drive Without Distraction
The National Safety Council (NSC) reports that cell phone usage, dashboard touchscreens, voice commands, and other in-vehicle technologies are safety threats. Age-old distractions remain too, like helping children in the backseat, eating while driving, and putting on makeup.
The focus should always be on the road around you, the controls under your hands, and the pedals under your feet. It's unrealistic to assume that you can always block out all distractions, but drivers make choices every minute they're behind the wheel.
You can choose to get your music set before you hit the road, memorize your route so your attention isn't torn away from the road to look at a navigation app, set your children up with snacks and books and whatever they need to keep them busy in their car seats while you concentrate on the task at hand. And, above all, you can put the phone away and out of your reach while you're driving.
Ways to Prevent Distracted Driving
Distracted driving deaths are preventable – figuring out how to prevent them is the challenge. The Risk Institute at the Ohio State University has announced an initiative to help predict and curb the deadly behavior to stop fatal distracted driving and create actionable change. Incentives like insurance discounts for good behavior may be an option, but research in this area is lacking.
One study found that confident drivers are more likely to engage in risky, distracted behaviors when they're driving. Understanding what makes motorists behave the way they do is the starting point for altering behavior that could potentially be fatal.
Another study deemed that the design of roadways can impact distracted driving accidents. In 1.4 million Ohio crash records, urban areas had a higher risk of car crashes than rural areas. The number of lanes, length of a segment of roadway, and road location are associated with higher frequencies of distracted driving crashes. Road conditions that seemed to have fewer distracted driving accidents include roads with a median or shoulder with an asphalt pavement. Roundabouts, as annoying as they can be, were found to be effective in reducing the severity of crashes, particularly in distracted driving-related crashes.
Protect Yourself and Your Loved Ones
If you have been involved in an auto accident because of a distracted driving or lost a loved one in a distracted driving car accident, work with a Michigan personal injury lawyer who will fight on your behalf to get you the compensation you deserve for suffering and injuries. Contact David C. Femminineo, car accident attorney in Macomb County, to schedule your consultation.