Bicyclists might be a minority on Michigan roads, but cyclists still have the right to travel alongside cars, trucks, and motorcycles. Many would-be cyclists err on the side of caution and stick to alternative methods of transportation even though they might be inclined to bike, citing infrastructure, safety concerns, and weather as deterrents to jumping on a two-wheeler. This precaution is understandable: According to Michigan Traffic Crash Facts, in 2014 there were 1,763 accidents involving bicyclists, 21 of which resulted in bicyclist fatalities.
Commercial truck drivers make Michigan highways more treacherous >>
Educating Drivers About Bike Safety
Sadly, many drivers are careless about sharing the road with bicyclists. They may neglect to give them the space they need, or drive unsafely in an effort to provide the cyclist with more space to ride. The bottom line is that many car and truck drivers aren't actually aware of what bike safety laws are in place to help cyclists and drivers share the road and improve bike safety across the state of Michigan.
Programs to Educate All Cyclists (PEAC) and the League of Michigan Bicyclists recently lobbied Michigan lawmakers in an annual cyclist advocacy day, proposing laws to better protect Michigan cyclists, including a law to create a 5-foot minimum safe passing distance for motorists around bicyclists. They also proposed increased penalties for any driver who hits a bicyclist as well as other "vulnerable roadway users," which means pedestrians and wheelchair users.
Last year's bicycle advocacy day ultimately resulted in the adoption of Nathan's Law, which requires driver's ed classes to include education about bike and motorcycle safety. New and veteran drivers alike need to understand how to share the road safely with cyclists, bicyclists and motorcyclists alike.
Auto accident epidemic: Distracted while driving >>
Commuting Cyclists
The most dangerous time of day for bicycle riders is between 3 p.m. and 6 p.m. – rush hour – which would indicate that bike riders are commuters. In fact, 28 percent of bicyclists commute to work or school by bike at least twice a week, reports the Michigan Department of Transportation (MDOT).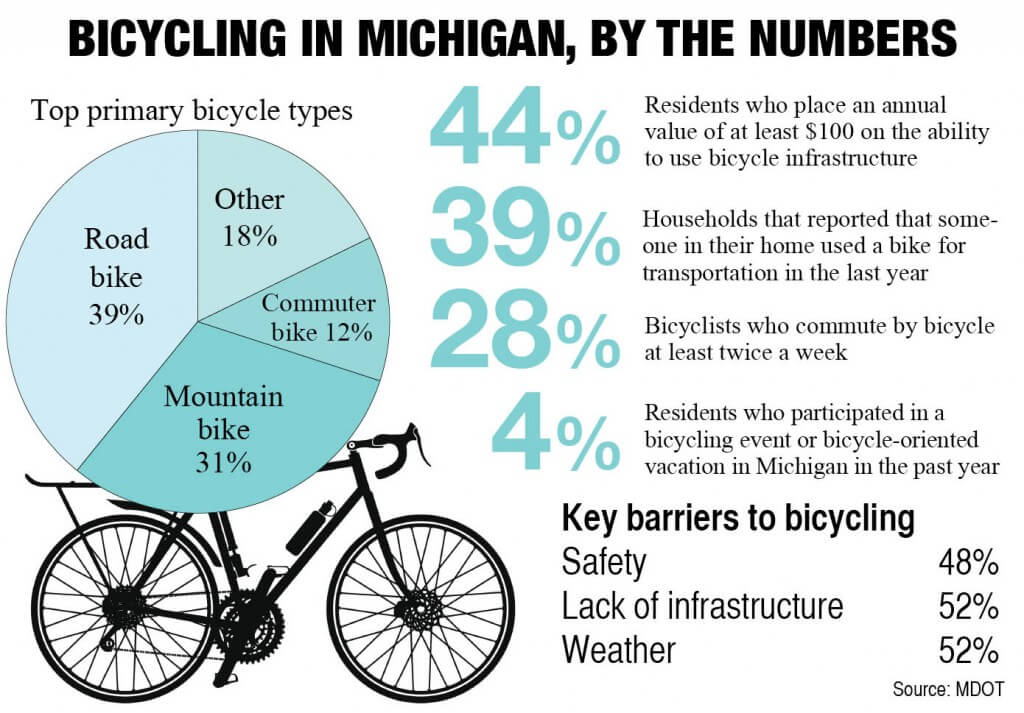 If you have been involved in a bicycle accident in Michigan, contact Femminineo Attorneys PLLC to speak with personal injury attorney David C. Femminineo about your case.