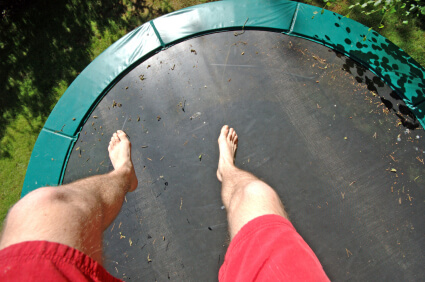 Category
The Dangers of Trampolines
Trampoline gymnastics made its debut at the 2000 Olympic Games in Sydney, Australia. With the London Olympics just around the corner this summer, there will undoubtedly be a renewed interest in the sport – and, as a result, a slew of injuries.
In 2010, there were an estimated 92,000 emergency room visits following trampoline accidents in the United States. Children in particular become enamored with the thrills that jumping on a trampoline can provide.
However, the American Academy of Pediatrics advises that no children play on trampolines and that trampolines should only be used for training programs, certain sports, and then only under the supervision of a trained adult.
Trampoline mishaps have become a staple of funny video shows and YouTube, but the results of trampoline accidents are anything but funny. There have been many recalls on backyard trampolines, as recently as this past May, for things like faulty netting leading to falls and injuries.
Trampoline safety experts report that overcrowding, poor supervision, and failing equipment are three factors that have led to broken bones, fractures, and head injuries at trampoline parks. Jumpers collide with one another, fall on the trampoline springs or frame, fall off of the trampoline, or injure themselves while attempting somersaults or stunts.
In an effort to reduce injuries, the U.S. Consumer Product Safety Commission (CPSC) has worked with the trampoline industry to develop a new standard for trampolines and alert consumers to potential dangers:
Padding must completely cover the metal frame, hooks, and all springs.
There must be a label on the trampoline box stating that trampolines over 20 inches tall are not recommended for children under 6 years of age.
Ladders cannot be sold with trampolines to prevent access by young children.
The warning label on the trampoline bed must alert consumers not to allow more than one person to jump at a time and to warn against somersaults that can cause paralysis and death.
"The Olympics could give the popularity of trampolines another bounce," said CPSC Chairman Ann Brown. "Unfortunately, the injuries have already reached Olympic proportions. The new safety standard along with taking precautions could help prevent many of these injuries."
Contact Femminineo Attorneys in Macomb County, Michigan, if you would like to discuss your slip and fall or wrongful death case.