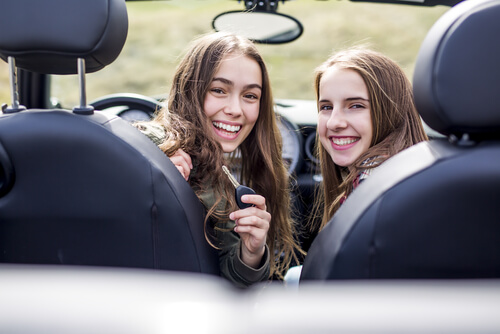 Category
The Scary Stats About Teen Drivers and Car Accidents
Parents look forward to hanging up their chauffeur's hat when their teen earns their driver's license, but they also dread the idea of setting their teen loose on the road. Teens look forward to getting their license. They see themselves as infallible and immortal and competent, but these mindsets can be deadly. Teenagers are the age group with the highest risk of getting into a car accident.
Teen Driving Statistics
Car accidents are the leading cause of death among teenagers ages 16 to 19, according to the Centers for Disease Control and Prevention (CDC). Here are just some of the other stats that parents and teens need to know, courtesy of the CDC and the personal finance website WalletHub, which recently analyzed the teen-driving environment:
Demographic: Teens aged 15 to 19 only made up 6.5% of the population in 2016 but they were responsible for 8.4% of all costs resulting from car accident injuries.
Season: More teens earn their driver's license during the summer than any other season of the year.
Fatalities: An average of six teens die every day from motor vehicle injuries.
Risk: Per mile driven, teens are nearly three times more likely to be in a fatal crash than drivers older than age 20.
Passengers: Teens who drive with teen passengers have an increased crash risk that goes up with every teen passenger added to the vehicle.
Gender: In 2016, young males (ages 16 to 19) had a motor vehicle death rate that was two times that of young females.
Age: Newly licensed teens have a higher crash risk during their first months of licensure. Fatal crash rates are nearly twice as high for 16- to 17-year-olds when compared with 18- to 19-year-olds.
Michigan landed at number six on WalletHub's list of best states for teen drivers, but no one should rest on their laurels. The dangers are still inherent.
Modeling Good Driving Behavior for Teen Drivers
Knowing the stats about teen drivers and car accidents may not make you feel any better about allowing your teenager behind the wheel. However, these numbers will remind you how important it is to reinforce common sense rules to your teen – and model them yourself – as you work to develop smart, safe young drivers.
Parents know the reality and dangers of driving – at least they should. Your teen will mirror your driving behaviors whether you realize it or not. Use your phone while driving? Fiddle too much with the dashboard controls? Ignore traffic laws? Take risks? The newbie driver in your family is more likely to do the same so they can look cool and pretend they're just like an adult when, really, they're still just a teenager who's just learning to drive.
Protect Yourself from a Car Crash with a Teen Driver
There is nowhere else for teens to learn how to drive but on the road, but whether these young motorists are accompanied by a driving instructor, parent, or driving alone, there is risk involved in being anywhere near them. Other drivers on the road are wise to watch out for teen drivers. Even if a car crash with a teen driver is not severe and doesn't result in any injuries, you're still on the hook for repairs, traffic citations, insurance hikes, and more.
If you have been involved in a Michigan car accident with a teen driver and want to make sure you get compensation from your insurance company and theirs, contact David C. Femminineo, Michigan car accident lawyer in Macomb County, to schedule your consultation.