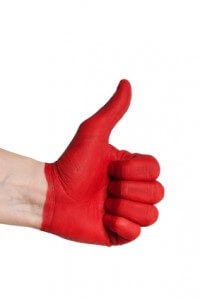 Category
Seeing Red: Remind Yourself Not to Text and Drive
Cell phones are involved in 1.6 million auto accidents annually, according to the U.S. Department of Transportation. Because people seem unable to put down their phones, this distracted driving epidemic results in over 6,000 deaths and 500,000 injuries every year.
The University of Michigan Transportation Research Institute gathered statistics about texting and driving and discovered, alarmingly, that a quarter of teenage drivers respond to a text message one or more times every time they get behind the wheel. Nissan's Vice President of Marketing, Jeremy Tucker, said, "Twenty percent of teens and 10 percent of parents admit that they have extended, multi-message text conversations while driving."
Americans know they have bad driving habits >>
Recently, Nissan partnered with Maroon 5 front man and The Voice coach Adam Levine to create awareness of distracted driving with their Red Thumb Day campaign, urging drivers to stop texting and driving. The designated Red Thumb day was December 16, but there's no reason not to take this suggestion and follow it through every day. Whether you paint your thumb nail red, draw a heart on your thumb, mark it with an X, or pick up a Red Thumb Reminder Band from your local Nissan dealership, the point of the effort is the same: Find some way to prevent yourself from picking up your phone while driving.
People who supported this effort were encouraged to post their Red Thumb efforts on social media. No doubt, many of them were likely tempted to take photos of their hands on the wheel with a red-marked thumb. If you're supporting this cause, make sure you wait until you reach your destination before posting a pic of your #RedThumb on Facebook, Twitter, or Instagram.
Maybe you feel silly with something red on your thumb. Isn't it better to see a little smudge of red on your hand to remind you to keep your hands off of your phone than to see blood on your hands from a fatal car accident? If you can't abide by this idea, find some other way to keep your phone out of your hands while you're driving – put it in the glove compartment, stash it in your bag in the backseat, or turn it off completely. Just put your phone down while you're driving. Whatever it is can wait.
If you have been involved in an auto accident caused by distracted driving, contact Femminineo Attorneys PLLC to speak with personal injury attorney David C. Femminineo about your case.