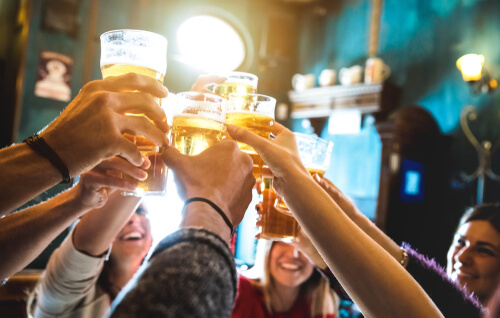 Category
The Threat of Drunk Driving Car Accidents on Blackout Wednesday
Perhaps in homage to Black Friday as the day after Thanksgiving, the day before Turkey Day has earned the nickname of Blackout Wednesday. One of its other monikers further clarifies the name: Drinksgiving. It's the night when college kids come home and reconnect with friends, when family meets up in happy reunions, when the holiday season officially kicks off – and the alcohol is plentiful. Sadly, drunk driving car accidents abound too.
Thanksgiving Travel Dangers for Motorists
Blackout Wednesday is the biggest drinking day of the year in many parts of the United States, more alcohol-soaked than New Year's Eve and Super Bowl Sunday and graduation parties and the Fourth of July. Unfortunately, Thanksgiving is also one of the busiest travel times of the year and the roads are packed with motorists on the way to or from their holiday destinations. The combination can be deadly.
Absolutely, it's important to focus on travel safety at this time of year and look out for distracted drivers, impatient drivers, drowsy drivers, aggressive drivers, and reckless drivers. But on Blackout Wednesday, you must be alert to all these drivers – as well as the reality that many of them could be intoxicated at the same time.
The Origin of Blackout Wednesday
Blackout Wednesday is a fairly new term, coined only a few years ago to describe a spike in alcohol sales at this time of year, but this cultural phenomenon is now readily used in marketing efforts by bars, restaurants, and other places of revelry to promote their drinks and special events. The name is derived from the binge drinking that is common to the night before Thanksgiving, with "binge" defined as five or more drinks in a row for men and four or more drinks in a row for women. This high-risk drinking can lead to blackouts and, not surprisingly, auto accidents.
Alcohol sales go up, driving capabilities go down, but people still get behind the wheel after drinking on Blackout Wednesday. Many people make the smart decision about drinking and driving and call an Uber, but whether you're on the roads as a passenger or driver, you're still at risk for motorists who haven't made the same cautious choice.
Make It Home for the Holidays
Over 800 people died in car crashes on Blackout Wednesday between 2013 and 2017, according to the National Highway Traffic Safety Administration. In 2018 alone, 133 people died in alcohol-related crashes from Wednesday at 6 p.m. to the Monday morning after Thanksgiving.
Heavy drinking is highlighted thanks to the attention given to Blackout Wednesday, but it's also encouraged by marketers and business owners. Organizations like Mothers Against Drunk Driving (MADD) promote the use of the hashtag #BoycottBlackoutWednesday to show support for a more sober Thanksgiving Eve.
If you drink, don't drive. If you drive, don't drink. These are simple but weighty statements – and they're something to live by, if you want to protect your well-being and that of others.
If you have been involved in a Michigan drunk driving car accident, contact David C. Femminineo, Michigan car accident lawyer in Macomb County to schedule your consultation.