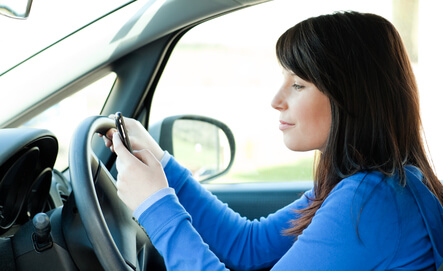 Category
Who Are the Most Distracted Drivers?
You might be surprised to learn that people with more education and income are more likely to suffer the consequences of distracted driving, from getting in a major auto accident to getting a ticket, according to a poll conducted by GfK Roper.
Distracted driving has become a universal problem – 93 percent of drivers reported engaging in distracted driving in some way, whether texting, talking on a cellphone, or even kissing. Of the people who own up to their bad behavior, 4 in 10 American adults acknowledge that their actions have forced them to slam on the brakes, swerve into another lane, get a ticket, almost get in a wreck, or have an auto accident. Those with college degrees and who earn at least $75K a year make up nearly half of the offenders, perhaps because, according to driver risk management company DriveCam, well-to-do, well-educated drivers exhibit the same traits as classic, impatient, Type A personalities who are engaged in many activities at once.
These same personalities may not associate the risks of distracted driving with their own behavior, perhaps seeing texting and cellphone usage as dangerous but as a much bigger risk for other drivers. It's the classic, "It can't happen to me" syndrome.
Results of bad driving: Auto accidents and high insurance premiums >>
Causes of Distracted Driving
Multitasking and fatigue are major causes of distracted driving. Highly educated and high-income drivers scored the highest in almost every distracted category of the poll.
Here are some poll findings:
92 percent of highly educated drivers and 95 percent of high-income drivers say they've adjusted a radio, CD player or iPod while driving. That compares with 87 percent of all of the adult drivers who were polled.
83 percent of highly educated and high-income drivers acknowledge they've eaten while behind the wheel, compared with 77 percent of all respondents.
80 percent of highly educated drivers and 85 percent of high-income drivers say they've talked on a cellphone while steering. The figure was 74 percent for all drivers.
39 percent of highly educated drivers and high-income drivers admit to kissing or engaging in other romantic physical contact while in the driver's seat. That compares with the 29 percent of all drivers who acknowledge they've been amorous behind the wheel.
33 percent of highly educated and high-income drivers say they've read while driving, versus 20 percent of all drivers polled.
Are highly educated and high-income drivers busier people in general? Workaholics? They may be checking their handheld devices to sort through incoming emails and texts and calls while commuting, just to ease their work load once they arrive at the office (or at home at the end of the day).
Interestingly, in two polling categories well-educated and well-paid drivers were behind other subgroups: sending or receiving a text message (70 percent of drivers age 18 to 24; for the $75K earners this figure was 52 percent), and lighting up a cigarette, cigar or pipe.
Does a new smartphone lead to more auto accidents? >>
Consequences of Distracted Driving
The National Highway Traffic Safety Administration reports that 16 percent of fatal crashes in 2009 were attributed to distracted driving, which can include eating, talking to passengers in the car, and even daydreaming.
If you have been the victim of a distracted driving auto accident in Michigan, contact Femminineo Attorneys PLLC to speak with personal injury attorney David C. Femminineo about your case.