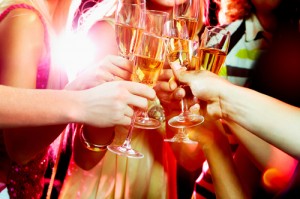 Category
Alcohol's Role in Fatal Car Accidents During the Holidays
Thanksgiving and Black Friday officially kick off the end-of-year holiday season. Revelry is at a high from the end of November through early January. And with these celebrations often comes an excess of alcohol consumption. Holiday parties, reunions with friends, family get-togethers – these are natural occasions to open a bottle of alcohol and toast to each other. Sadly, these are the last festivities some people ever experience because many of them become involved in fatal car accidents as a direct result of their indulgence in alcohol.
And it's not just the people who choose to get behind the wheel after a night of drinking who are in danger. There are sober innocent drivers on Michigan roads who are at the mercy of a fellow driver's poor decision to drink and drive.
There were 32 fatal accidents in Macomb County from January through August of this year alone – a 60 percent increase over the same period of time in 2014, and a 66.7 percent increase in the number of people who have been killed in these traffic accidents, according to the Macomb County Traffic Safety Association. The fatal car accidents that occur over the last weeks of the year will drive that number up precipitously.
Penalties for Michigan drunk drivers are increasing >>
Drunk Driving: Still One of the Biggest Killers on Roads
Thousands of people are cited and arrested for drunk driving every year, and many lose their lives. Almost 31 percent of all driving fatalities on U.S. highways in 2013 were alcohol-related. While Independence Day and Labor Day are notorious for high numbers of fatal traffic accidents every year, Thanksgiving, Christmas, and New Year's play their part in the round-up of deadly times on the highway.
AAA estimated that about 95 million people travel by car during Christmas and New Year's. Drunk driving, combined with the bad decision to not wear a seatbelt, makes Christmas one of the deadliest days of the year. If the holiday falls on a weekend – as it does this year – more people are likely to be traveling, more festivities will be had, and there will be more opportunities for social binge drinking – all factors that contribute to higher numbers of car accidents. Winter weather plays its role as well, as does stress that often accompanies the holidays and leads to be more aggressive driving and, when combined with alcohol, this makes for a frightening time of year.
The app that can prevent drunk driving >>
Designate a Safe Holiday Season
It isn't difficult to get home safely as you celebrate Christmas and New Year's. Select a designated driver – and remember that a designated driver is the person who doesn't drink at all, not just the person who drinks least. If you are too intoxicated to drive, call a cab. Better yet, take a cab to your destination so you won't even have the opportunity to get behind the wheel of your car at the end of the night.
Be smart. This is a season that should be about celebration and family and friendship. It should not be a season of mourning. If you have lost a loved one in a fatal auto accident involving alcohol, contact David Femminineo today to discuss your case.