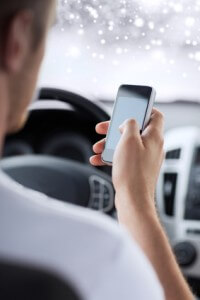 Category
Can An App Prevent Texting While Driving?
The best way to avoid the temptation to text and drive, or use your phone at all while driving, is to put it in the trunk before you start your car. This, however, is a habit that busy people are not very likely to adopt. So other solutions have arisen, namely apps to prevent texting while driving and, therefore, auto accidents. Here are some to consider for yourself and the Michigan teen drivers in your life.
DriveMode
The DriveMode app from AT&T is designed to automatically launch once the car is moving at over 15 MPH. All audio alerts about new texts and emails received while on the road are automatically silenced. The app responds to text messages (for AT&T customers) letting the sender know that the recipient is driving and will get back to them later. And the app blocks you from reading or typing while driving. It is necessary to enable the app in order for it to automatically do its job, so make sure you actually do this before you put the key in the ignition. Parents can receive a text message alerting them if the app is turned off in their teen driver's car.
Preventing drunk driving: There's an app for that >>
DriveSafe.ly
Can't stand not knowing what your new texts and emails say as they chime while you're driving? The DriveSafe.ly app reads messages aloud in real time. It also offers a customizable auto-responder, preventing a driver from needing to touch their mobile phone while on the road, which lets you send pre-set auto responses or respond by voice, hands-free. This app only requires a one-touch activation and is compatible with Bluetooth.
Canary
Aimed at parents of teens, Canary offers feedback to parents about their child's driving behavior. The app – downloaded on your teen's phone – allows parents to set maximum speed limits for their young driver, and receive alerts when the speed goes above the sanctioned number. Most importantly, the app lets parents see their kid's cellphone use in real time – you'll know immediately if your child is texting, tweeting, talking, taking selfies, or doing anything else on their smartphone while behind the wheel. And, most importantly, if the teen driver disables Canary, a notification will be sent to parents immediately.
Seeing red: Remind yourself not to text and drive >>
While teens are certainly tempted to stay connected to their friends and their life through their smartphone, even while driving, busy adults have their own bad cellphone behaviors behind the wheel too. Distracted driving is an epidemic, and it's growing. The Centers for Disease Control and Prevention reported that, in 2011, over 3,300 people were killed in auto accidents involving a distracted driver. 387,000 people were injured.
Apps can help prevent against texting and driving, but personal accountability is paramount. Parents must model appropriate behavior while driving. Sneaking your phone out when you're operating a vehicle only shows your kids that it's OK for them to do it too. Make it a rule, for every member of your family – no phones while driving. End of story.
If you have been involved in a Michigan auto accident caused by distracted driving, contact Femminineo Attorneys PLLC to speak with personal injury attorney David C. Femminineo about your case.